It is hard to believe that this time last month we actually had snow on the ground and a fire in the woodstove here in NW Montana (see this story on the Log Home Neighborhood). What a difference a few weeks can make.  Of late, we are experiencing our typical mid-summer temps and sunshine… lots of sunshine.  This is the time of year when I usually take off for a few days to do some repairs and preventative log home maintenance.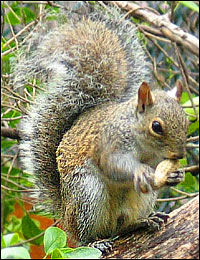 I joke with my wife that we live the life of squirrels – it seems that almost everything we do is in preparation for the upcoming winter.  No, we're not stockpiling nuts, but chores such as replenishing the firewood supply, driveway repair, log maintenance, caulking, etc. are fair weather projects.  As our forward-thinking squirrel friends have shown us, now is the time for action.
My biggest project this summer will be treating our 'horizontals'… those wood surfaces that take the brunt of nature's abuse.  Snow, rain, hail, wind and intense sunshine are woods most serious threats.  Left untreated, wood will begin to rot and deteriorate almost immediately.  When the finish has disappeared it is time to take action.
I have previously commented in this blog about my disappointment with any manufacturer's products to adequately protect horizontals for more than one or two years.  Most manufacturer's make claims of 3-7+ years of protection, but it has been my experience that such warranties only pertain to verticals.  My exterior log walls were last treated in 2003 and five years later look as good as they did back then.  However, my log railings, steps and deck have required retreatment almost every year.  I have no gripes with these manufacturers as I think it is just impossible to produce an applied finish that can survive extreme weather.
This morning I begin my 3-step horizontal treatment… first, I will remove dirt and old finish by powerwashing all areas to be re-strained. Then I'll give the wood 1-3 days to dry thoroughly, and lastly I will apply a new coat of stain.  Our weather forecast is for clear skies and sunshine for the foreseeable future, so this is an optimum time to complete this project.
I'll try to remember to snap a few before/after photos and follow-up with my progress in this blog – so stay tuned.  Better yet, subscribe to this Log Home bLog and you'll be notified when I make my next posting.  http://feeds.feedburner.com/LogHomeBlog
Enjoy your day, I'm heading to the garage to fire-up my powerwasher!